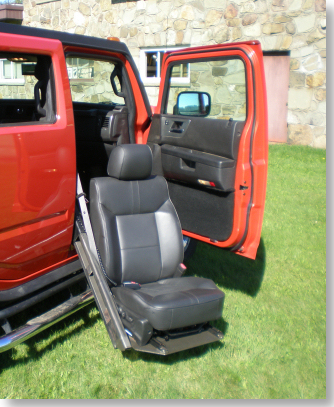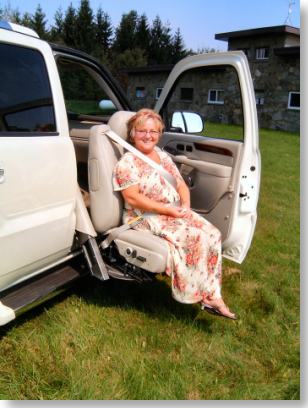 You love the comfort and style of your truck or SUV/4x4, and there's no reason to give that up just because you need assistance getting in and out. The Easy-Reach power lift seat provides a safe, short, comfortable ride into your vehicle. Because the Easy-Reach almost always uses the original vehicle seat, built-in safety sensors and your vehicle's style both remain in their original condition. In most cases you can still recline and even slide your seat!
And unlike other power lift seats on the market, the Easy-Reach extends far from the vehicle and at a natural angle, matching the angle of the door. So you have plenty of access to your seat and can make the safest, easiest transfer.
In the down position, the Easy-Reach faces more toward the rear than other power lift seats do, so you'll have an easier time stowing your chair behind the seat of your vehicle.
Almost always uses the original vehicle seat

Easily removed when you sell the vehicle

Won't affect resale value

When not needed, Easy-Reach serves as a normal passenger seat

In many popular vehicles, the Easy-Reach seat reclines normally

In case of vehicle power failure, manual back-up system is standard, battery back-up optional

Available for driver or front passenger in all extended-cab trucks

Available for front passenger in most standard pick-ups and SUV/4x4s